Several ports, including three in India and one in Israel, have been shortlisted; there are missing links in many of the proposed routes, though rail connectivity is being upgraded in West Asia
Days after India, U.S., Saudi Arabia, UAE and other countries launched the India-Middle East-Europe Economic Corridor (IMEC), officials said many of the details are still being ironed out, and multiple route options are being considered that will include ports like Haifa in Israel and Piraeus in Greece, The Hinduhas learnt.
Among the ports that could be connected on the west coast of India are Mundra (Gujarat), Kandla (Gujarat), and Jawaharlal Nehru Port Trust (Navi Mumbai). In the Middle East, at least five ports have been shortlisted to be connected to the Indian ports which include Fujairah, Jebel Ali, and Abu Dhabi in the UAE as well as Dammam and Ras Al Khair ports in Saudi Arabia. "Multiple routes are being considered to prospectively reduce the freight load on one route," official sources told The Hindu. It is to be noted that apart from government-owned ports, both Mundra port in India and Haifa port in Israel are privately controlled by the Adani Group, and have been highlighted in proposal documents that The Hindu accessed.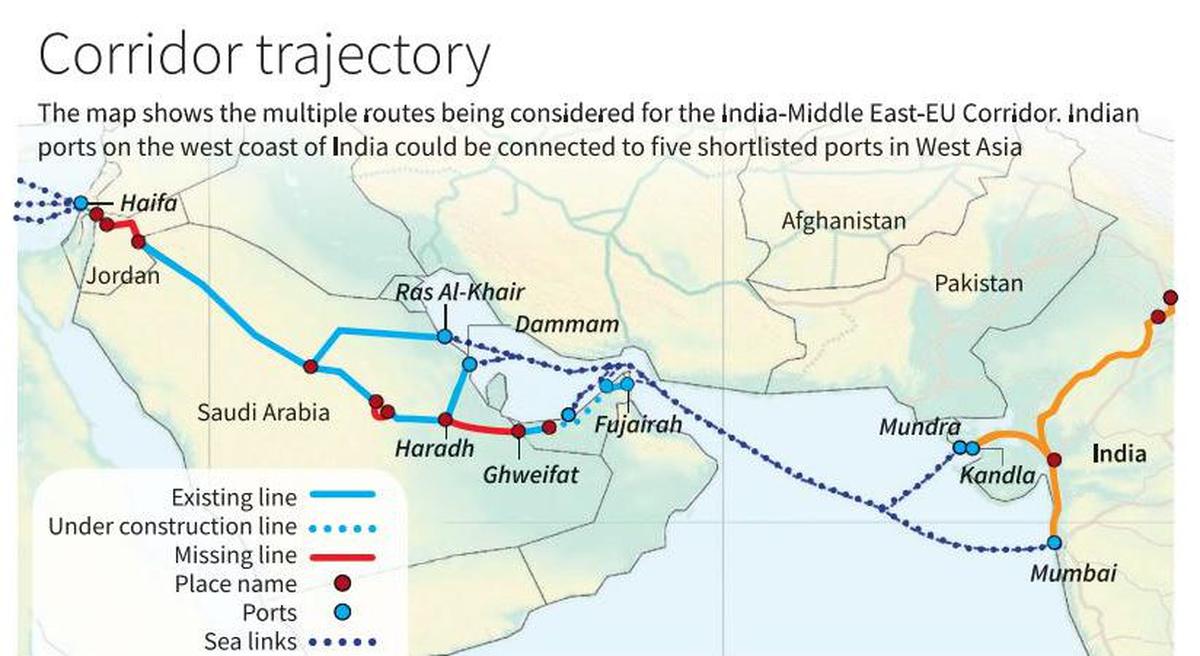 Also read: What purpose does the India-Middle East-Europe Economic Corridor serve? | Explained
The onward rail route connectivity from five ports in UAE and Saudi Arabia stretching up to Haifa port in Israel will be a mix of already existing Brownfield projects and fresh Greenfield projects to connect missing links.
Official sources said that a study was conducted to establish the extent of already existing and under-construction railway lines in the Middle East cutting across UAE and Saudi Arabia, while missing links have been identified, which will need fresh construction.
For instance, a 605-km network extending from UAE's Fujairah to Ghuweifat on Saudi border is under construction as a part of Phase-2 of the Etihad Rail project, which aims at transporting both freight and passenger traffic. However, there is a missing link between Ghweifat and Haradh, which will need to be constructed. Further, Haradh and Riyadh Dry Port are connected via rail and there is also an existing 1,242-km long line from Riyadh to Qurayyat managed by the Saudi Arabia Railways. "There is a missing stretch between Qurayyat in Saudi Arabia and Beit She'an in Israel which will have to constructed," the official said.
Of the total rail route length of 2,915 km stretching from Fujairah Port to Haifa, there are missing portions of 1,095 km, with work in progress in 536 km. Hence, 559 km still has to be constructed. Similarly, proposed rail routes from Jebel Ali port to Haifa span 2,565 km, with 745 km lacking connectivity. Here, work is already in progress across 186 km.
Another route, Abu Dhabi port to Haifa, runs across 2,449 km, with 629 km yet to be linked. On the fourth proposed route of Dammam port to Haifa via Haradh, which is 2,149-km long, 289 km is yet to be constructed, while for the rail route from Ras Al Khair port to Haifa passing through Buraydh, 269 km of the 1,809 km is yet to be linked.
As per the preliminary alignment plans accessed by The Hindu, from Haifa in Israel, landing destinations for Europe include Piraeus port in Greece, Messina in South Italy, and Marseille in France. Initial estimates suggest that developing each of these IMEC routes could cost anywhere between $3 billion to $8 billion, but officials say that it is too early to peg costs.
The Middle East, especially Saudi Arabia, has a huge role in IMEC where a railway corridor is being proposed to be built, Union Railway Minister Ashwini Vaishnaw said. "This will open up a new dimension in trade and transportation for the region. It is a very complex programme and will require everything to be brought to common standards. For instance, trains should run on the same gauge, similar technologies for engines should be used, dimensions of containers should be similar. Such important technical points have been outlined and preliminary alignments are being finalised, to achieve seamless levels of transportation. However, it will take a lot of work to achieve this," he added.
While IMEC has been proposed to counter the Belt and Road Initiative proposed by China, Chinese presence cannot be wished away along the IMEC route, officials said. "This is because Piraeus port is controlled by China Ocean Shipping (Group) Company which is a Chinese state-owned company. Also, Chinese companies like PowerChina, China State Construction Engineering Corporation and so on have qualified for multiple packages for Phase one and two of Etihad Rail," a senior official from a public sector undertaking (PSU) said.
Currently, all trade between India and Europe happens via the sea route, that passes through Suez Canal, controlled by Egypt.
"The all-sea route is convenient as we are assured that our cargo will land from point to point. It moves seamlessly without any obstructions. However, in the alternatively proposed IMEC, the number of times the cargo will get offloaded as it changes hands from ship to rail will increase the handling costs which include terminal-handling charges, container yard charges and so on. That seems like a bit of a challenge," said Anil Devli, CEO of Indian Ship Owners Association (INSA).
In addition, diplomatic sources said that Egypt, which could lose revenue if the Suez canal is bypassed, could also raise objections to the plan. Although Egypt was one of the special invitees at the G-20, and Egyptian President Abdel Fateh al Sisi was the chief guest at this year's Republic day parade in India, it was not among the countries that launched the Memorandum of Understanding (MoU) on September 9. The IMEC MoU was signed by India, the U.S., Saudi Arabia, UAE, European Union, Italy, France and Germany, in the presence of all their leaders.
---