This is the second time China has blocked an India-U.S. listing proposal at the UNSC in two months
China on Thursday thwarted a joint India-U.S. bid to list Jaish-e-Mohammad deputy chief Rauf Asghar as a UN Security Council designated terrorist by placing a "technical hold" on the process, a move India called "politically motivated" and evidence of China's "doublespeak" on Pakistan-based terrorism. Rauf Asghar, the brother of JeM leader Masood Azhar, is accused of masterminding a number of terror attacks from the IC-814 hijacking in 1999, the Parliament attack in 2001, as well as a number of attacks on security forces personnel from 2014-2019, including the strikes on the Air Force base in Pathankot, army camps in Kathua, Nagrota, Sanjwan and other locations. The National Investigation Agency's chargesheet on the Pulwama terror bombing in 2019, in which 42 CRPF personnel died, also names Rauf Asghar and Masood Azhar.
Also known as Abdul Rauf Azhar Alvi, Asghar was arrested by the Pakistani authorities in 2019 and convicted for terror financing charges, Pakistani officials had submitted to the Financial Action Task Force some months ago. It is unclear where he is being held, however.
In response to a question from The Hindu, Chinese Foreign Ministry spokesperson Wang Wenbin said China had "strictly followed rules and procedures of the committee", and that the government required "more time to assess the information to sanction the individual". This is the second time China has blocked an India-U.S. listing proposal at the UNSC in the past two months, after China placed a similar hold on the listing of Abdur Rahman Makki, deputy chief of the Lashkar-e-Taiba/ Jamaat-ud-Dawa (LeT/JuD).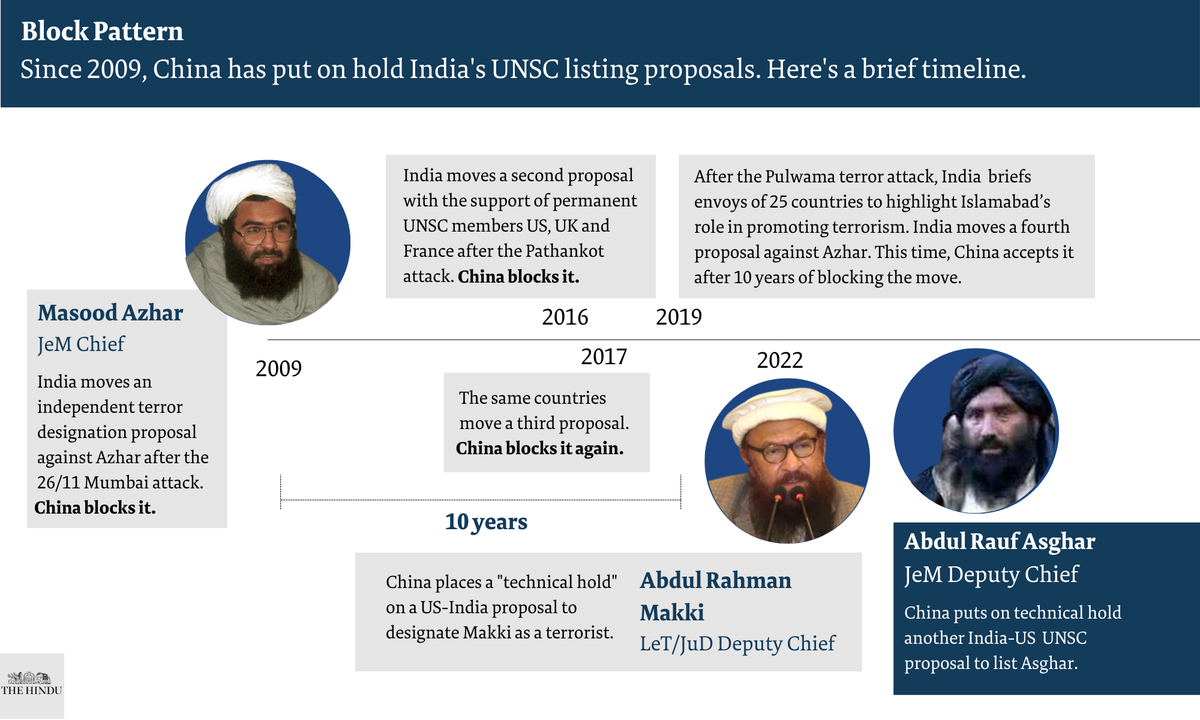 'Double standards'
"China's actions expose its doublespeak and double standards when it comes to the international community's shared battle against terrorism," said government sources in response, akin to a similarly angry response to the hold on Makki's designation in June. The sources pointed out that both Makki and Asghar had been placed on terror lists in the United States and India and called China's actions "politically motivated" in favour of Pakistan-based terrorists, and undermine the "entire sanctity of the working methods of the UNSC sanctions committee".
China's decision is likely to further strain ties between New Delhi and Beijing, which have been in a military stand-off at the Line of Actual Control since April 2020, and comes despite signs of a diplomatic thaw, after External Affairs Minister S. Jaishankar met Chinese Foreign Minister Wang Yi on the sidelines of a G-20 meeting in Bali, and Chinese Special Envoy on Afghan Affairs Yue Xiaoyong travelled to Delhi for talks with his Indian counterpart J.P. Singh last week. Ministry of External Affairs officials declined to comment on whether the government had requested China to support the listing, although sources said the MEA officials discussed the proposal during the UN coordination talks with a number of countries recently, and that 14 of the 15 UNSC members had supported the proposal on Thursday.
1267 UN listing
The 1267 UN listing mandates members to ensure that terrorists and organisations designated must not be allowed to travel, have recourse to funds or weapons. However, a UNSC permanent member can place a hold on any listing for a period of up to 6 months, followed by an extension of 6 months, after which it must either accept or deny the listing. Expressing India's frustration with similar decisions by China in the past, U.N. permanent representative Ambassador Ruchira Kamboj had said on Tuesday that "double standards and continuing politicisation" of the process had rendered the credibility of the sanctions regime at an "all-time low.".
---