Identifying Dalai Lama's successor, and a new crusader for the rights of the Tibetan people, has never been more significant
The line begins at the base of the hill every morning, as tourists, devotees and disciples wait to see the Dalai Lama, after crossing rigorous security checks and leaving bags, belongings and everything except a silk scarf or khata as an offering to him. At 88, the spiritual head of Tibetan Buddhists and the leader of the Tibetan diaspora that fled, like he did in 1959 from Tibet under Chinese rule, is remarkably healthy, and sharp. When asked about his health, aides point to his knees, and some hearing issues as the big worries. The Dalai Lama comes out of his home in McLeodganj in a golf cart, waving to all those gathered, before sitting in a chair as they file past. He blesses them, has advice for those who seek it, and cracks a few jokes.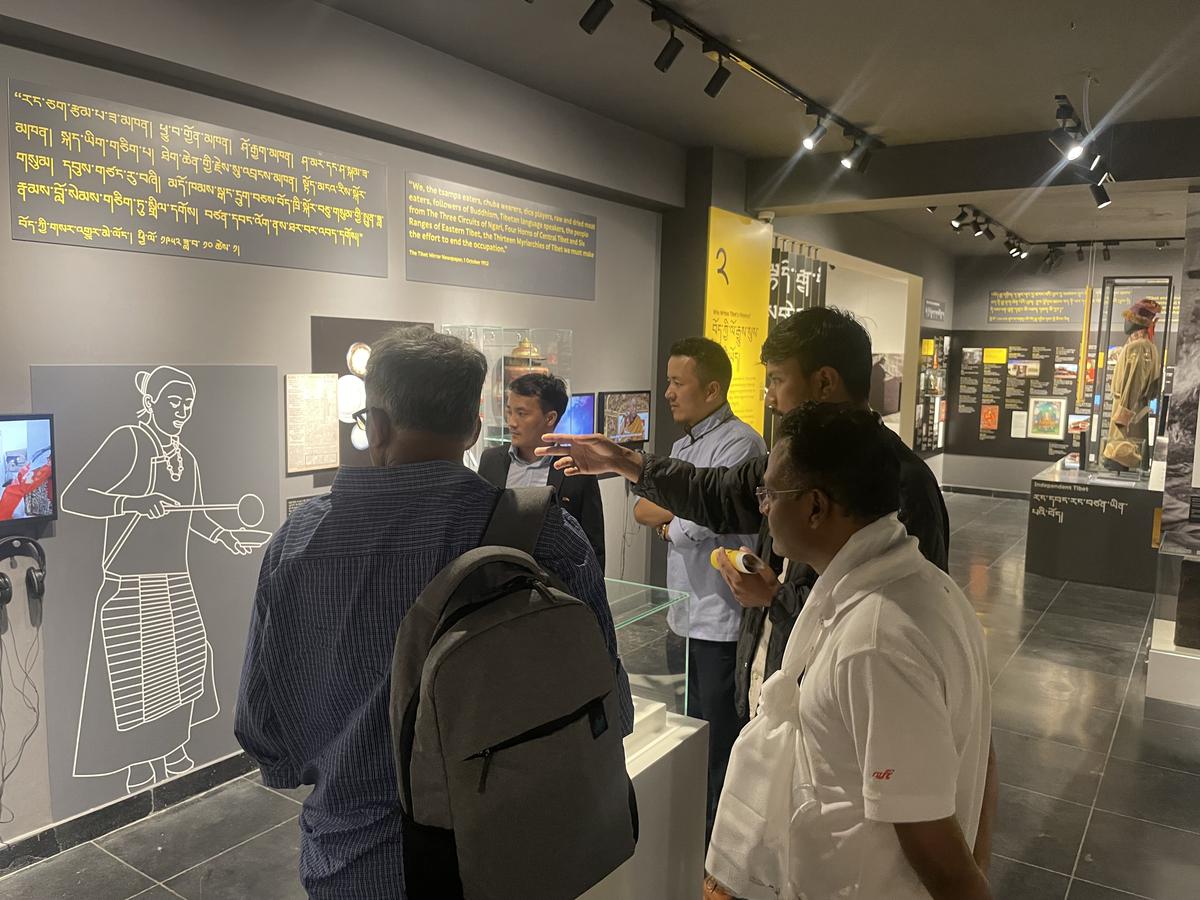 Visitors at the Tibet Museum that opened in McLeodganj last year | Photo Credit: Suhasini Haidar
We are a group of four journalists, hosted by the India Tibet Coordination Office and among the first to speak with him in some years. Most of what he says to us has been said before: that he hopes to return to Lhasa one day, but will return to India; that he thinks China is changing, and that more Chinese people, not just in Tibet, are taking to Buddhism and want to see him return. Above all, he speaks of his commitment to non-violence and the middle path, demanding talks for more freedom and autonomy inside Tibet, but not independence or political separation from China.
The 'splittists'
The Dalai Lama exudes optimism of achieving this demand, despite the fact that China has termed Tibetan freedom activists 'terrorists' and called him a 'splittist', but there are now furrowed lines on his otherwise clear visage. Travelling around McLeodganj, nicknamed 'little Lhasa' for the thousands of Tibetans who have made their home there, it is easy to see that worries about the future hang heavy. Three concerns follow us: the growing restrictions and lack of news from inside Tibet, the large Tibetan diaspora leaving India and getting scattered around the world, and the question of the Dalai Lama's succession, or reincarnation as Tibetans believe, upon which lies the larger question of the direction the Tibetan movement will take.
Sunrise at McLeodganj where Dalai Lama lives. | Photo Credit: Suhasini Haidar
Nowhere is that debate louder than inside what is called the Tibetan Parliament in Exile (TPiE), made up of 45 MPs who comprise elected representatives of the diaspora in India, Australasia, Europe, and the U.S., and meet for bi-annual sessions in Dharamshala.
"Within the lifetime of His Holiness (Dalai Lama), China has the key to solve the Sino-Tibet conflict. After he is gone, it will be very difficult… We don't have a leader who is charismatic enough, who can explain to the younger generation what is right and wrong," says TPiE deputy speaker Dolma Tsering Teykhang.
We sit down at the TYC (Tibetan Youth Congress) office in Dharamshala, with four young men in their 20s and early 30s, who lead Tibetan youth movements across India and abroad.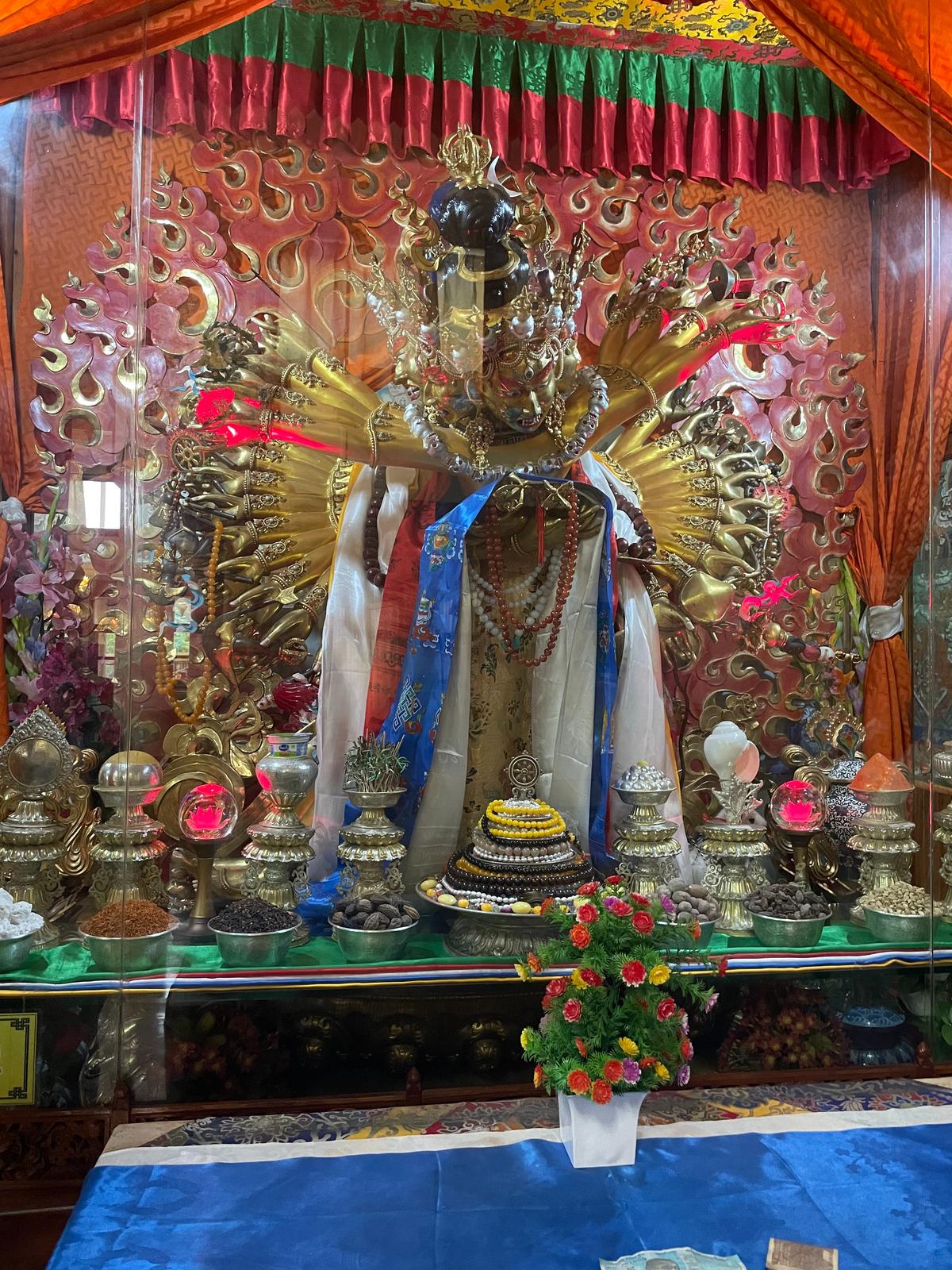 Buddhist deity at Dalai Lama temple, McLeodganj | Photo Credit: Suhasini Haidar
The 15th Dalai Lama
"So far the younger generation has adhered to the middle-path, to non-violence as the 14th Dalai Lama has espoused. If the Tibet issue is not resolved in his lifetime, even I am not able to assume what will happen… I can't say," says Sonam Tsering, 31, the general secretary of TYC, who claims a membership of 38,000 Tibetans worldwide. Since 2020, Tsering says, Indian bans on Chinese social media apps have cut out an important way for Tibetans in Dharamshala to communicate with family in Tibet.
As a result, the choice of the next in line to the Dalai Lama becomes more significant. At his office, the CTA Sikyong (elected leader), Penpa Tsering, tells us: what is clear is that the Chinese government will, as it has with other high Lamas and Rimpoches, announce a successor inside China. "I think China is more worried about the 15th Dalai Lama than the 14th (present) Dalai Lama."
In addition, the U.S., that has taken the lead in promoting the Tibetan cause, is now home to the Karmapa Lama, who leads the influential Karma Kagyu sect from a massive estate in Woodstock, New York. The Karmapa fled to India in 2000 from his monastery at just 15; he has, since 2017, lived abroad, mainly in the U.S., after differences with the Indian government over his travel as well as a controversy over Chinese donations, and has acquired a Dominican passport.
'Re-educating' children
Another growing worry in Dharamshala is of preserving the Tibetan language and culture: at the Tibetan library, manuscripts smuggled out of the land are being scanned and stored, while old videos showing the past are digitised. At the Men-Tsee Khang Tibetan Medicine centre, more than 360 doctors have been trained, as batches of traditional Tibetan medicines are manufactured and exported around the world. At the Tibet Museum opened last year, we see photographs of Tibet's past and even the clothes and mementos of those who took the arduous journey over the Himalayas from Tibet to India.
The biggest worry at present, say officials, is the clutch of new 'residential' schools opened for Tibetan children, that seek to 're-educate' them, and according to many Tibetans, to wipe out Tibet's rich history. In February this year, U.N. special rapporteurs issued a statement criticising the schools that teach only Putonghua (standard Mandarin), where an estimated 1 million Tibetan children are enrolled with the purpose of "building a modern and strong socialist state based on a single Chinese national identity" while suppressing Tibetan language and culture and alienating students from their families and traditions. China's Ministry of Foreign Affairs denied the charge.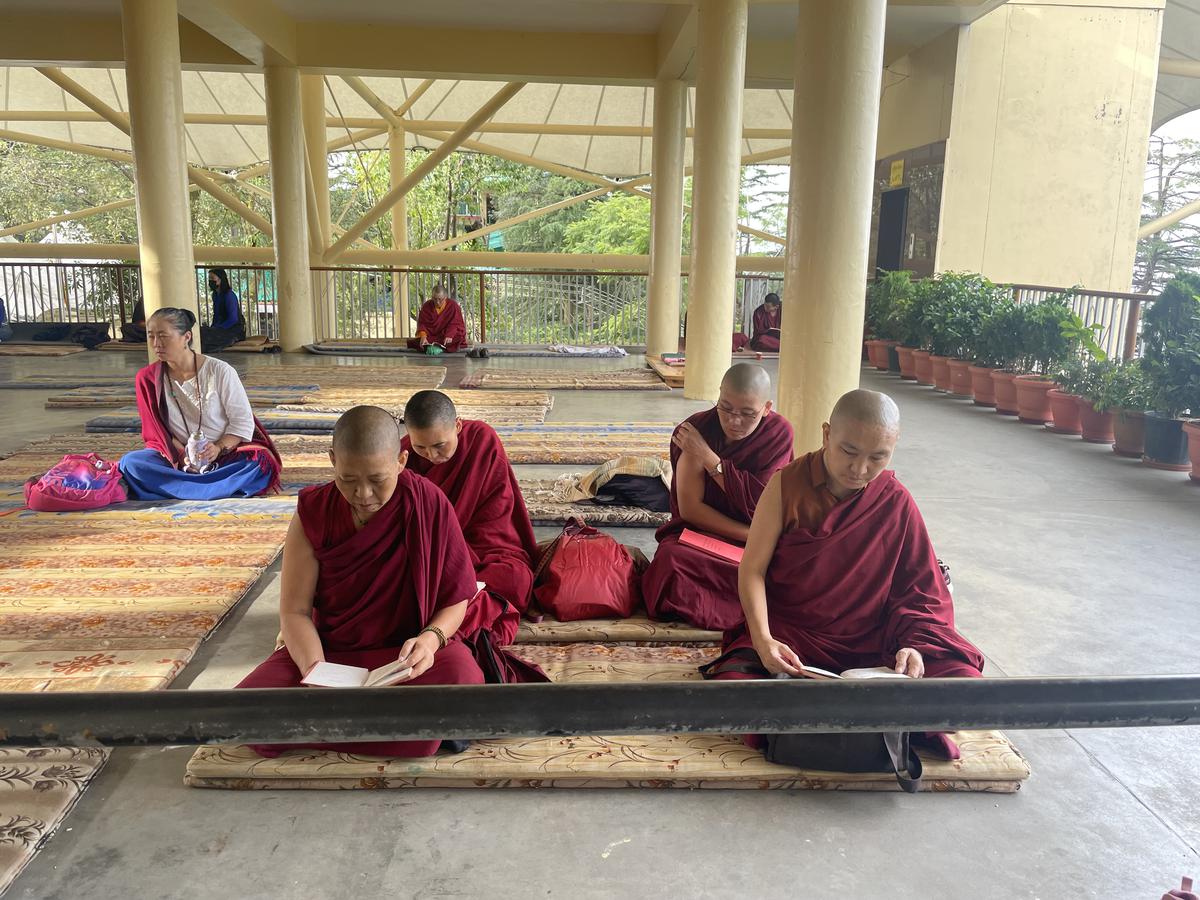 Buddhist nuns at Dalai Lama temple, McLeodganj | Photo Credit: Suhasini Haidar
At our next stop, the Tibetan arrivals centre, the worries become more apparent. About 15 years ago, our guides tell us, more than 500 Tibetans arrived each year. But as the border between China and Nepal has become more strictly guarded, that number is down to just 32 this year. We meet a group of nine young men, in their 20s and 30s, who arrived this month in India. There are also two children, a boy aged six and a girl, eight. We aren't told their names, and we are asked not to take photos or reveal their identities. The men, who speak no English, tell our translator they escaped from homes in different parts of the Tibetan Autonomous Region, undertook a 10-day trek, avoiding the People's Liberation Army and Nepali border guards to reach the U.N. office in Kathmandu, where they registered as refugees and were sent by bus to Dharamshala.
In Dharamshala, we visited a Tibetan Children's Village (TCV) school, one of dozens where such children who have been sent away are now studying. TCV projects have educated more than 28,000 Tibetan students in the last 60 years. It is hard to tell whether living in Dharamshala, away from their parents, is in any way better for the children than living in Tibet, but it is hard to deny the conditions that must drive parents to send away their children on this perilous journey so far away from themselves.
As they spoke about their travels, and also the joy of meeting the Dalai Lama, some of the men from Tibet began to weep. Our translator's eyes too were moist, overcome by their story, as also perhaps by the weight of concerns of a people in exile, with a tenuous future. The language of tears needed no interpretation.
---