Pakistan criticises meetings in Leh in April and Srinagar in May; China expected to boycott
In a strong message to China, the government plans to hold its next G-20 engagement group meeting in Leh this month, exactly three years since security forces first detected unusual numbers of People's Liberation Army (PLA) troops amassing along the Line of Actual Control (LAC) in Ladakh.
The meeting of the Youth-20 Summit, or Y-20, will be held from April 26 to 28 in Leh, bringing together about 80 delegates from nearly every G-20 country, officials said.
However, they declined to comment on which countries have so far not confirmed their participation.
While Pakistan has once again objected to the holding of meetings in what it calls "illegally occupied" Jammu and Kashmir and Ladakh, it is not an invitee.
China, which boycotted the G-20 engagement meeting in Arunachal Pradesh, is understood to be staying out of the meeting in Leh in April and also a G-20 tourism meeting in Srinagar from May 22 to 24 as they are "disputed territory".
OIC countries
All eyes will also be on the attendance of the three G-20 countries that are also members of the Organisation of Islamic Cooperation (OIC) — Turkey, Indonesia and Saudi Arabia. The OIC has issued several statements criticising India for its move to reorganise Jammu and Kashmir in 2019.
Editorial | Invented names: On India's response to China's fresh attempt to lay claim over parts of Arunachal Pradesh
Diplomatic sources said Turkey might be unable to send officials, given the presidential and parliament elections that are due to be held next month, while a response is awaited from Indonesia.
'Strong indignation'
On Tuesday, the Pakistan Ministry of Foreign Affairs issued a statement expressing "strong indignation" over New Delhi's plans to hold the G-20 meetings in Srinagar and Leh.
"Such events cannot hide the reality of Jammu and Kashmir being an internationally recognised dispute that has remained on the agenda of United Nations Security Council for over seven decade," the MFA said, accusing India of "exploiting its membership" of the G-20 to advance its own agenda.
The MEA did not issue an immediate rejoinder to the MFA statement. However, on Tuesday, it rejected China's statement claiming Arunachal Pradesh, after Home Minister Amit Shah visited the northeastern State on Monday. "Arunachal Pradesh was, is and will always remain an integral and inalienable part of India. Objecting to such visits…will not change the above reality," an MEA spokesperson said.
Preparations on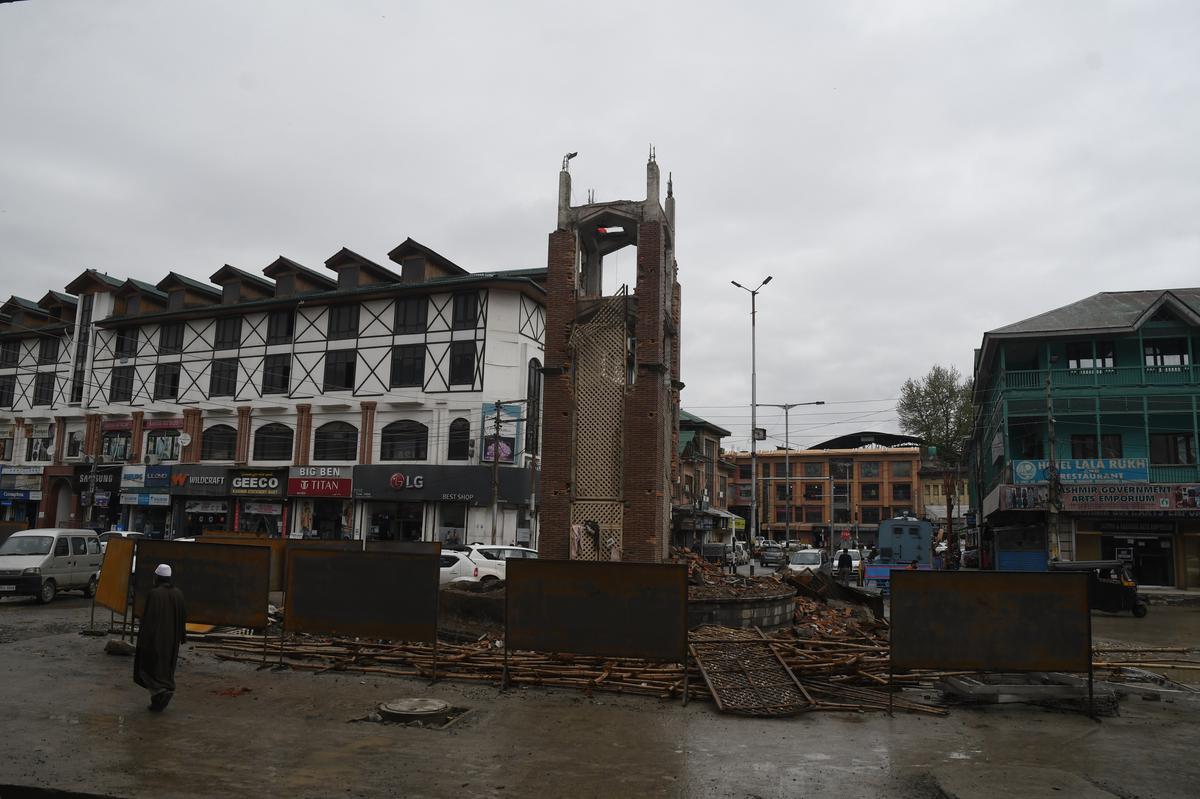 The Ghanta Ghar in Srinagar's Lal Chowk is renovated ahead of the G-20 meeting. | Photo Credit: The Hindu
Officials said preparations for the Y-20 and G-20 tourism meets are being completed. While about 80 youth delegates, who have been nominated by their governments, are expected to travel to Leh for the three-day meeting and will largely remain in the city, the government delegates who will travel to Srinagar could also be taken to Gulmarg for a day.
The Kushok Bakula Rimpochee (KBR) Airport in Leh has been given a facelift and e-buses have been put to service to ferry the delegates. Three centrally protected monuments of the Archaeological Survey of India Leh Circle — the historic Leh Palace, Hemis Monastery and Thiksey Monastery — have been illuminated for the April event.
Officials said last minute logistics and security details of the Srinagar event are still being tied up.
The agenda for the youth meeting in Leh has already been formulated by the first "inception" meeting in Guwahati in January, said Youth Affairs ministry officials. It would be discussed during the Leh meeting and finalised for a joint communique at the final meeting in Varanasi in August. The communique talks would be centred around the five themes of future of work and innovation, climate change, peacebuilding and reconciliation, youth role in democracy and governance and health and well-being (physical and mental).
Asked whether Beijing had made its concerns over the venues known, the officials said that invitations had been sent to all countries in January, and all were aware of the dates of the event in Leh, adding that it was the "prerogative" of the guest countries to decide whether to attend.
Chering Dorjay, leader of the Leh Apex Body and senior vice president of Ladakh Buddhist Association (LBA), rejected the objections. "China has no right to comment on whatever we do in Ladakh. India should not take such threats seriously," Mr. Dorjay told The Hindu.
Ladakh is expected to showcase its cultural diversity and promote tourism during the event. Officials said a carnival is being organised in the desert area near Leh where locals will display street art, traditional dances, local cuisine and showcasing products by local start-ups at village haats. TheSindhu Ghat will also host an event for the delegates, sources said.
---